What This Blog Is Made Of
I know that my blog isn't the best looking nor does it have a ton of fancy features. However, I still get occasional questions on what tools and services I use to build make this blog run. So here is a rundown of the services I use.
Note: Some of the links used here are affiliate links. This simply means I get a commission should you use my link to purchase the tool or service. This is at no cost to you and sometimes may give you a discount. See my disclosures for more details.
Hosting provider
I use Cloudways (referral link) to host my site. They offer managed hosting on top of popular VPS providers like Digital Ocean (referral link with free credits – I use this for another WordPress site), Vultr (what I use with Cloudways), Linode, Google Cloud, and AWS. You pick the VPS and plan, but all the management and billing are done through Cloudways. They offer excellent backups, CDN, staging environments, free SSL, and much more. And, it's easy to allocate more resources to your server if your traffic grows. Creating a WordPress site there is a snap! You can be up and running in minutes!
Like many other bloggers, I started with Bluehost hosting. Bluehost keeps my costs down and was really easy to set up. It also includes a domain name and email. So it really has everything a blogger needs to get started. It's not the fastest host, but for blogs my size and even much bigger, it is a great fit. Other benefits include:
Good support
Free SSL certificate and easy configuration
1-click WordPress install
Automatic WordPress updates
You can get a discount on hosting using one of my affiliate links above.
WordPress Theme
Also like most bloggers, I use the WordPress platform for my blog. I recently changed to using GeneratePress for my theme. It's clean, fast, and highly customizable.
Previously, for many years, I used the Genesis framework for my themes. Genesis uses clean, fast and regularly updated code to keep your blog working well. They have a lot of themes that will work on their framework. I chose to go with Magazine Pro. They aren't free, but you can't go wrong with Genesis themes. You can save some money using my affiliate links above if you are interested.
Opt-In forms
Thrive Leads was an easy choice for building opt-in forms. The forms are buttery smooth and they offer all different types of opt-in forms that just work. They integrate seamlessly with WordPress and don't have a huge learning curve. Other features that drew me in include
Works with all the major email providers including Mailerlite (see below)
It is well maintained and consistently updated
Has pretty much every type of opt-in form you could want
Built-in A/B testing
Advanced form triggering options, including exit intents and smart exit features
Many beautiful and customizable templates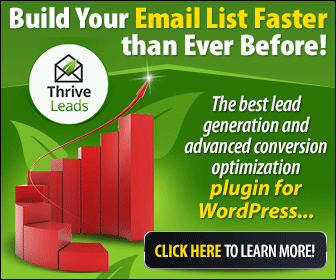 Mail/Marketing automation
Again, I did a lot of research on this when I first started out and decided to go with Mailerlite because:
It's free up to 1000 subscribers
Can build multiple types of campaigns easily
Comes with many templates for various campaign types
It integrates with key services (like Thrive, Facebook, and obviously WordPress)
It was easy to learn and use
Support is responsive and thorough
More about this site
If you'd like to learn more about me or the content of this site, please visit the About page.
If you have any questions on how this site, please don't hesitate to get in contact with me!